This is a really easy and yummy way I've been combining my grain and fat serving lately. I don't really want to call it sushi, because it's so easy and sloppy that it feels like an insult to sushi to call it that.
I use just 4 ingredients. Rice, avocado, a nori (seaweed) sheet, and store-bought furikake seasoning. Some furikake seasoning blends have sugar, but the brand shown below (Eden Shake) has none, and it's totally BLE friendly. I get the seasoning, nori, and sushi rice at my regular big grocery store in the Asian foods section. An Asian market will definitely have them.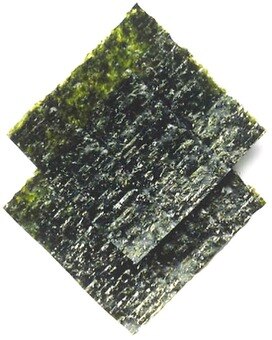 I usually complete this meal with a side of beans as my protein (I've been loving plain beans cooked from scratch in the Instant Pot with nothing but salt on them) and a big pile of roasted veggies. Boom, dinner's ready!
Simple Avocado Roll
Servings: Makes 1 Serving
Each Serving Contains:
1 Grain Serving
1 Fat Serving
---
Ingredients
Grain Serving
4 oz cooked sushi rice (or any other kind of rice)
Fat Serving
Condiments & Spices
1 nori sheet
Dash of furikake seasoning, to taste
Sprouts (optional- I use my awesome Hamama sprouts)
Soy sauce (for dipping)
---
Directions
Cook your rice normally according to package directions.
Mix in furikake seasoning gently.
Weigh out your cooked rice serving and spread it on the nori sheet.
Lay the sliced avocado and sprouts in a line
Roll it up, any way you want.
Slice into rounds with a sharp, wet knife.
Dip in soy sauce if desired.
Recipe Source: Katie's Bright Kitchen