When batch cooking day rolls around and I'm short on time or creative new ideas, this is my go-to. (Well, this and also chili, eggplant, Instant Pots full of delicious things…. I have no shortage of quick batch cooking recipes). Anyway, this is a great recipe for using up random veggies. Try any veggie you've got. You won't even be able to tell what they are anyway, because they will be drowning in creamy and flavorful sauce. This is a slight recreation of this recipe from many moons ago, with the difference mainly being that I discovered good curry powders and pastes. Game changer.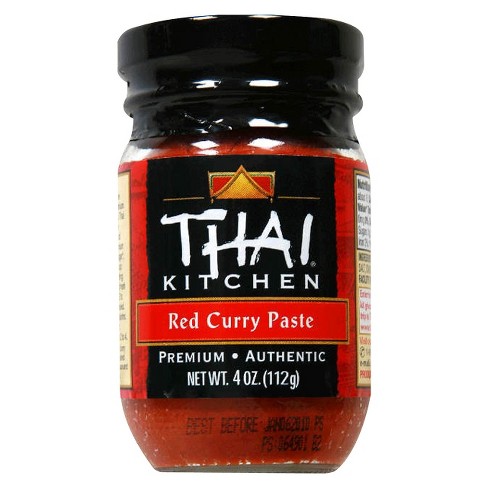 Go-To Weeknight Curry
Servings: Makes 4 Servings
Each Serving Contains:
1 Veggie Serving
1 Protein Serving
1 Fat Serving
1/2 Fruit Serving (optional)
1 Grain Serving (optional)
---
Ingredients
Veggie Serving
4 veggie servings worth of your favorite vegetables, with similar cooking times (Personally, I weigh my veggies raw and add a few extra ounces to compensate for them cooking down. See this page about methods for weighing mixed dishes).

Carrots
Bell peppers
Onions
Broccoli stems
Cauliflower florets
Broccoli florets (I add these at the very end of cooking)
Greens (stir in after removing the pot from heat)
Peas (stir in after removing the pot from heat)
Protein Serving
8 oz roasted whole cashews (4 protein servings)

Or, serve with 4 oz of cubed tofu or another protein of choice.
Fat Serving
1 (15-oz) can lite coconut milk (4 fat servings)
Fruit Serving
12 oz fresh or frozen mango, pineapple, or papaya (2 fruit servings)
Grain Serving (Optional)
1 lb potatoes or sweet potatoes, cubed (4 grain servings)

Or, skip the potatoes and serve over 4 oz of cooked rice
Condiments & Spices
2-3 cloves garlic, minced
1 thumb ginger, finely grated or minced
3 Tbsp good quality Indian curry powder or paste (or more to taste)
Fresh cilantro to garnish (optional)
---
Directions
Heat a teensy bit of oil or water in a large heavy bottomed pot over medium heat.
Saute the minced ginger and garlic for a minute or two, until fragrant.
Add the curry seasoning, coconut milk, veggies, and potatoes (if using). Add broth or water to reach desired thickness. It should come close to the level of the veggies so that they can fully cook.
Bring to a gentle simmer and cook, covered, until the veggies have softened and the potatoes are cooked. When the veggies and potatoes are close to done, add the fruit and peas to defrost (if frozen) and to let the flavors meld.
Portion out 4 equal sized servings.
Garnish each serving with 2 oz nuts for protein, along with fresh cilantro.
Recipe Source: Katie's Bright Kitchen